The $59.90 The $59.90 The $59.90 The $59.90 The $59.90 The $59.90 The $59.90 The $59.90 The $59.90 The $59.90 The $59.90 The $59.90 The $59.90 The $59.90 The $59.90 Washable Stretch Silk Tee Dress
Sweet simplicity – this washable silk tee dress transitions from the office to the weekend with ease. Always chic, never fussy, this dress is an easy win every time
Group Buying allows you to unlock even lower prices on items from Last Brand
How?
Buy at the discounted price, and get another friend to buy from us to get your order fulfilled
Hand wash in cool water with a mild detergent for delicate fabrics. Soak the garment then gently agitate in the water. 
Rinse thoroughly in cold water and hang to dry. 
Earn $10 off by referring friends
P.S. Your friends can get $10 off on their first order too.
It's our way of saying thanks for helping spread the word!
Customer Reviews
Write a Review
Ask a Question
10/09/2020
Gabriela P.
United States
I recommend this product
Loved it! although I would need a petite version
Im wearing it with a belt since it's a little too baggy for me. It's a little darker than the one in the picture. The feel is amazing! I really like it. I would love to see it in petite sizes... And I'm really looking forward to continue buying silk products like this from onequince (when some of my favs are restocked)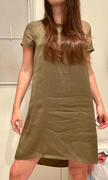 09/24/2020
Stephanie C.
United States
I recommend this product
Easy, breezy...
The dress is beautifully elegant and easy, not to mention cool in the heat of summer! I love it!
09/18/2020
Marissa
United States
I recommend this product
Favorite piece
This dress is great. I missed it in my correct size but still wear it all the time. It's a great transition piece and I fully intend to buy at least one more if restocked
09/17/2020
Giedre
United States
I recommend this product
Amazing Dress
This was my first item that I have ordered from this store and I was blown away. It's such an amazing dress that I am sad I missed it in blue. The fit is true to size and so flattering! The cut is nice and flowy, but also has good shape to it and looks great. There is a seam on the chest that also helps it look expensive and great quality. My favorite part of this dress is the fabric. I hand wash it in the sink with a little special soap made for delicates, I roll it up in a towel to get some of the moisture out and then I hang it up on a hanger to dry. It dries so quickly! Like 2 hours. And as it dries it straightens out and there are no wrinkles. I love silk, but sometimes it can be hard to launder, not the case here! I love this dress, wear it every week, and want to get it in more colors.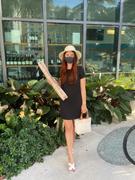 09/10/2020
Chau T.
United States
I recommend this product
Cute and comfy!
I love this dress. It feels like a pajama dress, but look so chic and put together. I'm 5'3 and the front is about 2 inches above my knee so definitely work appropriate for me and did I mention how comfy this is yet? Quality is amazing too. I washed it in cold water and steamed it and it look like new.
09/08/2020
Kana K.
United States
I recommend this product
Again so happy with this
I bought this in navy and black, and am hoping for more colors!