The $39.90 The $39.90 The $39.90 The $39.90 The $39.90 The $39.90 The $39.90 The $39.90 The $39.90 The $39.90 The $39.90 The $39.90 The $39.90 The $39.90 The $39.90 Premium Washable Silk Tank
The perfect washable silk tank. This effortless, A-line silk shirt is made with 100% premium silk you can hand wash at home. No dry cleaning runs needed. Perfect for layering at the office or days lounging at home.
Group Buying allows you to unlock even lower prices on items from Last Brand
How?
Buy at the discounted price, and get another friend to buy from us to get your order fulfilled
Hand wash in cool water with a mild detergent for delicate fabrics. Soak the garment then gently agitate in the water. 
Rinse thoroughly in cold water and hang to dry. 
Earn $10 off by referring friends
P.S. Your friends can get $10 off on their first order too.
It's our way of saying thanks for helping spread the word!
Customer Reviews
Write a Review
Ask a Question
10/12/2020
Lucy O.
United States
I recommend this product
Great under anything!
This top fits very well under sweaters and shirts and feels so silky and smooth.
09/28/2020
Erin S.
United States
I recommend this product
Perfect tank!
This tank is exactly what I was looking for - fits true to size, no armpit hole gap (no visible bra), well-constructed, and light-weight. I haven't tried to wash it yet so can't comment as to how it holds up in the wash.
09/23/2020
Vanessa C.
United States
I recommend this product
Beautiful, comfortable, and clearly high quality
It took me a while to find the right fit for this, but once I did, it fit perfect! I have ordered from Quince before, a Medium in the silk button down shirt and a Small in the cashmere tee. However, both medium and small were too big for me in this style -- had to go for the XS, and it fits (as you can see in the picture). If I were bigger I think a bigger size would have fit, but since I'm so slim the only size that would fit my body and not make me look emaciated was the XS. Hope this helps!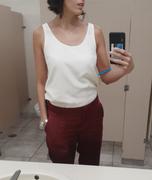 07/17/2020
Danelle G.
United States
I recommend this product
Capsule wardrobe worthy tank
It fits like a glove, the material feels quality and is a good thickness for summer, it is not see through and will be good as a shell for layering or alone for more casual looks.
07/07/2020
Amanda H.
United States
I recommend this product
Solid everyday staple
The large works perfectly for a 36 D bust with out feeling like a tent at the waist. on me. Perfect coverage to wear a bra underneath with out showing at the arm pits like they often do. The black and pink (Pink is very pink, not the pale pink I expected) are unlined and the white has an extra layer of lining in it which it probably needs. The lining is much shorter than the tank and creates a visible line if the tank is not tucked in. Their silk washes beautifully on delicate+woolite in a mesh bag and hang dry. It is better than the washable silk I've gotten from other brands.
07/06/2020
Halley
United States
I recommend this product
Super functional, not see through
This tank is super cute. I got the cream color and even with a navy colored bra on under you can't see through it! This is super versatile and I can see how you could easily dress it up or pair it with jeans for a casual look. I have yet to get the creases out of it from it being folded for shipping- anyone have tips? Like some other reviewers said the texture isn't a traditional silk- it's more matte than I had anticipated but it's nice. And the color is definitely a creamy white not a true white!
Thanks for the review! To remove wrinkles from our silk we recommend either a) using a steamer, b) ironing on the silk setting, or c) hanging the silk in your bathroom while showering for an easy wrinkle removal effect. In general, once you wash your tank, please either hang or lay it flat so that it dries without wrinkles. Should you have any other questions please email us at care@onequince.com. Thanks!