The $89.90 The $89.90 The $89.90 The $89.90 The $89.90 The $89.90 The $89.90 The $89.90 The $89.90 The $89.90 The $89.90 The $89.90 The $89.90 The $89.90 The $89.90 Mongolian Cashmere Sweatpants
The classic sweatpant elevated in Grade-A cashmere. This relaxed fit pant subtly skims the leg for the ultimate easy, flattering silhouette. 
Group Buying allows you to unlock even lower prices on items from Last Brand
How?
Buy at the discounted price, and get another friend to buy from us to get your order fulfilled
For hand washing (preferred option) please use cold water (30°C) and neutral soap or baby shampoo. Rinse out without rubbing and lay it on a flat surface to dry at room temperature, avoiding sunlight. Iron at low temperature, using pressing cloth. Do not bleach. If you prefer dry cleaning, please ask for delicate detergent.
Earn $10 off by referring friends
P.S. Your friends can get $10 off on their first order too.
It's our way of saying thanks for helping spread the word!
Customer Reviews
Write a Review
Ask a Question
I recommend this product
Ultimate comfort!
I am 5'4 and about 105 lbs, and the XS fits pretty snug-ly. I would love if the waistband were a bit more relaxed , but overall the pants are so soft and comfortable. I will be using them for lounging indoors. They are a treat for myself and much warmer than any soft fleece pants I've been able to find.
I recommend this product
Serious quality for a reasonable price
Excellent quality material & construction. Wide, comfy no-roll elastic waistband. No pilling so far after wearing to bed & putting through the wash (cold). No smells. Very pleased with my purchase, especially for the price. Two minor issues: color needs to be dark grey or black rather than pale grey for pants; and really long rise (can see in pics) & wide hips, waist comes all the way up to my rib cage, and I'm fairly tall. But mostly wearing for sleep, so works for purpose. But great deal for price, will be buying other pieces too! Hope they expand offerings & colors!! ❤️ Highly recommend!
I recommend this product
Very cozy!
Love these pants, perfect for fall and winter. Getting them in black as well!
I recommend this product
WFH, Princess Mode
Dear Diary, it is day one quillionty-three of quarantine, and working from home is my new normal. I miss wearing my beautiful dresses, but who am I trying to impress, the cat? These cashmere sweatpants are the perfect compromise: cozy but luxe. They fit perfectly and I feel just a little bit more like myself. (The cat does not care, but that is her issue.) Maybe work from home's not so bad after all.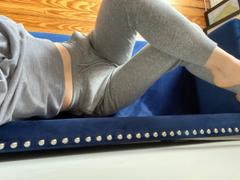 I recommend this product
Best Cashmere Joggers!
These cashmere joggers are the best you can find at this, or probably any, price point online. They're soft, high quality, well-made, and perfect fit. Will definitely be buying more colors!