The $99 Premium Silk Robe
Details
Material: 90

% premium silk & 10% spandex for a beautiful satiny silk finish with a 4 way stretch for comfort. 

Weight

: beautiful hand-feel weight of 25 mm

 
Details: hanging hook and inner ties
Care: d

ry clean

Origin: 

China
Description
Luxurious, thick and feather-light Chinese silk. This indulgent silk robe is the perfect piece after a warm bubble bath.
Group Buying allows you to unlock even lower prices on items from Last Brand
How?
Buy at the discounted price, and get another friend to buy from us to get your order fulfilled
To preserve the natural and luxurious qualities of this material, we recommend that you only dry-clean this garment.
Earn $10 off by referring friends
P.S. Your friends can get $10 off on their first order too.
It's our way of saying thanks for helping spread the word!
Customer Reviews
Write a Review
Ask a Question
08/17/2020
Winnie
United States
07/09/2020
Nicole S.
United States
02/11/2020
Rachel
United States
I recommend this product
Updated Review -- 5 Stars for the Customer Service
So I just wrote a review for this product a few hours ago ("Not 100% Silk). Not only did they respond here, but the Head of Product Sourcing wrote me an email asking for more feedback and apologizing for the website copy oversight. They changed the error on the website immediately regarding the fabric composition, had a good reason for having chosen the composition they did, and on top of that she (three cheers for lady leaders), and everyone with whom I have interacted there since have truly been the most kind, authentic people I've had the pleasure of dealing with at a brand in...possibly ever. I definitely had the fear when I first wrote that last review and saw the fabric composition difference that someone was trying to take me for a ride, because well...many companies out there are trying to do that, and I was feeling a bit peeved and cynical. I wasn't even sure they would allow the review to be posted. But if they can so quickly admit their own mistakes and be so understanding of a customer even after a slightly testy review, I at least want to leave a more even-headed response here (they did not ask me to do so). So the chilled out / unemotional version of my last review: Pros -- unique shirt-tail hem, good length (long body, shorter sleeves that don't get in stuff), good hand-feel on the fabric (I have now been talked into / educated on the beauty of spandex silk), nice color. Cons -- no hook on neck so could possibly stretch fabric if you hand it, no internal ties so very hard to keep closed. I'm still returning it because the internal ties are just an essential for me as I tend to use robes as a post-shower thing (not open) and it just didn't quite deliver. That said, while the product isn't quite what I had expected, it does seem very much like this is a company out to grow and improve in word and deed, be transparent, and take care of their customers. I'm interested in seeing how they keep getting there and they took me from a maybe-not-again customer to a definitely-yes-another-try customer in the space of a few hours. Other review readers -- make of that what you will, but that's no small thing in my book.
12/23/2019
Silvia D.
United States
I recommend this product
BEAUTIFUL
I am so impressed by the quality of this robe. I have been eyeing the Lunya silk robe but find this to be so much better overall (better fit, more classic lines). I am 5'2", 105 lbs and was concerned this would be too big on me - but it drapes so beautifully that it's just perfect. It falls right under the knees on me, and it super light without being see-through. The color is also very unique and it goes with pretty much anything (if you do at all want to wear anything else with the robe). I love this piece so much - it's like being wrapped in a luxurious cloud!
07/14/2020
Stella P.
United States
I recommend this product
Nice robe for the price-washing not impossible
This is "one size fits all" which means I cannot say whether it runs small or not. It's small for me. I'm 5'4" and weigh 220 lbs (size 14 in dresses, 18 in pants) and the robe closes around me but barely, which is what I was expecting when I ordered it. Material is slightly thinner than I anticipated but still good quality. Also, despite it being "non-washable" silk, washing it (at least once) did not hurt it. I immediately spilled coffee on it and, having no access to a dry cleaner, laundered it, hung-dried it and then ironed it. With that said, I don't recommend washing it frequently; the material and stitching are delicate. Photo I am submitting is post-wash/ironing. Overall, I am pleased with the purchase. Would love to see this in other colors!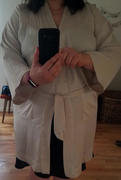 05/08/2020
Patience S.
United States
I recommend this product
Lightweight and airy, but poor construction
Honestly, the feel of the silk is fabulous. The silk and spandex blend gives it a gorgeous airy feel, and you can float around in it like some silken sleep fairy. It feels so nice on the skin. But ultimately, the construction isn't that great. It seems they've added ties on the inside, which is a wonderful touch, but there were loose threads everywhere, both inside and out, and most frequently in the middle of the seam. One loose thread, I don't mind, but there were several on this one. Fit-wise it's not my favorite, either— it's personal preference, but it doesn't do anything for me when I'm not cutely posed like the model is. Despite these, I'd still really want to keep it, but the thing that has me considering returning it is that I didn't realize this silk robe was not part of Quince's washable silk collection— even though at the top of their "Silk" category on the site the banner says "100% premium washable silk," apparently that doesn't apply to everything in the silk category itself, as the tag on the robe says "Dry Clean Only." The listing for the robe also doesn't specify the care instructions. I don't like spending $100 on something that I would want to wear in the mornings, which involves plenty of potential for spills or stains, and not be able to wash it. If I keep it, I'll hardly want to wear it at all, and that's not living my best life.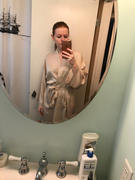 Oh no! It sounds like you may have received a defect. Please email us at care@lastbrand.com and we'll take care of this asap. Thanks!